Gym, office, kitchen – rubber mats are the perfect floor surface for a variety of uses. Find the best rubber mat for your application with this all-inclusive rubber mats buying guide.
Being on your feet all day can take a toll on your body. If your occupation requires you to stand or walk for long shifts, there are basically two ways to survive – strong, durable rubber flooring that relieves some of the fatigue, or fugly orthopedic shoes.
A few strategically placed rubber mats are the ideal flooring option for several situations, not only to help self-conscious teenagers survive their first job. Have you ever tried to do a sit-up on a hard floor? Or mop up muddy footprints tracked all over your house? Rubber mats provide the comfort, cleanliness and convenience you need from your flooring.
This guide will help you navigate the world of rubber floor mats and find the right one for your use. We'll cover everything from the benefits of rubber floor mats to how to find the right size and thickness for your application.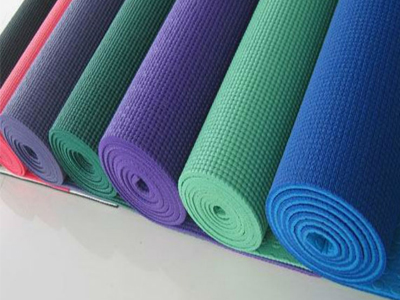 Rubber Mats
Why Choose Rubber Mats?
Sure, it may look like floor mats have no other responsibilities than to lay on the ground. But a quality rubber mat goes to work providing support to tired feet, cleaning up after messy cooks and taking a beating from weight-throwing bodybuilders.
Not just any floor mat is built to withstand that kind of abuse. Rubber floor mats in particular have specific qualities that make them the go-to flooring for heavy traffic or those who are on their feet most of the day.
As the go-to flooring solution for gyms, restaurants, building entrances and homes, rubber matting comes with a range of benefits to serve multiple applications. Easy to clean, comfortable for footing, water resistant – all of these features wrapped into one portable surface makes for an incredibly consumer-friendly flooring.
Here are the main benefits of choosing quality rubber mats:
Durability: Rubber is a strong material that withstands heavy foot traffic, heavy weights and any heavy use. Their durability makes them a long-lasting flooring option, so you can rest assured knowing you're getting your money's worth.
Convenience: Most rubber floor mats are lightweight and portable, so you can easily pick them up and move them around as needed.
Great for small spaces: If you're looking to cover an individual work or workout space, a single rubber mat can do the trick.
Comfort: Rubber anti-fatigue mats can relieve the stress of standing on a hard surface all day.
Safety: Rubber flooring material provides good traction and is slip-resistant. Floor mats can help prevent falls and injuries in the workplace or gym.
Floor protection: Because of their durability, rubber mats will protect your subflooring from heavy weights or objects.
Appearance: Quality rubber mats have a smooth finish, making any gym or business look more professional.
No installation: Just lay it and leave it. Seriously, so easy!
Easy to clean: Simply vacuum or use a damp mop when necessary.
If you want to get more information about high density rubber mat, welcome to contact us today or request a quote.