Searching the Internet for a foam deemed "medical grade" can be an intimidating and discouraging mission. This is especially true when the search results produce a large number of similar buzzwords to decipher and differentiate (i.e. medical foam, medical grade foam, foam used in medical products, etc.). The term "medical grade" foam means many things to many different people. At MUNKCARE, we follow a simple set of guidelines and definitions that allow us to determine the most practical and economical foams to use in our customers' medical applications.
The following are the most common definitions of foams that we use to help select the right material for your project.
Biocompatibility
Foams that have been tested, approved and certified according to the ISO 10993 protocol.
Fixed formulation
The raw material formulation can be registered with the FDA. If the material changes, it is determined that the foam cannot be classified as a medical grade foam without additional testing.
Medical PE Foam
FDA Master File
This is where the foam formulation is registered with the FDA. It is important to remember that a foam with an FDA master file means that the formulation is registered with the FDA. This does not necessarily mean that the foam is "medical grade". Additional biocompatibility testing will determine if the foam is suitable for medical applications.
The healthcare industry and the foam manufacturing industry are more interconnected than many people might think. From medical product manufacturing to transportation, different types of foam have their uses in a variety of healthcare applications. However, no one type of foam can cover all applications in the healthcare industry. What is suitable for foam mattresses and pillows is not necessarily ideal for customising orthopaedic devices or as packaging for transporting medical equipment.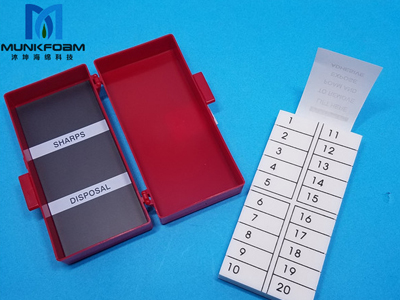 Needle Collector Foam
There are thousands of foam materials and properties, from density to porosity, durability and compressibility. We can help you choose the right medical grade foam for any application, including.
Mattresses and pillows
Cushioning
Custom orthotics
Filtration and liquid management
Packaging and shipping
Below are some of the main options for medical foam applications.
Medical cushioning and orthopaedic foams
The main choice of foam for medical cushioning is open-cell polyurethane. Open-cell foams are known for their ability to compress and stretch, and are commonly used due to the level of comfort and support they provide. They have a high tensile strength, which makes them durable when stretched and compressed, but they are also viscoelastic, which means that the material will easily return to its normal shape after the force of compressing it has been removed. They are also flame retardant in accordance with UL94 safety standards and can easily be made to any shape, size and thickness.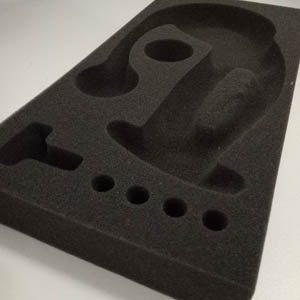 Polyurethane Foam Tray
There are two main types of polyurethane foam: ester polyurethanes and ether polyurethanes. Ester polyurethane is more rigid and supportive and has better shock absorption, but it is prone to hydrolysis and will break down in water. Ether polyurethane allows for more airflow and moisture permeability. It is more flexible and can be used in a wide range of products.
The second main choice of medical cushioning material is polyethylene foam, which is a resilient closed-cell foam with good shock absorption and resistance to bacteria and mould. In some cases, many types of medical cushioning materials will use both closed-cell and open-cell polyethylene, layered on top of each other to achieve the right comfort and feel for the product.
These types of foam can be used in everything from mattresses to medical cushions, pillows, wheelchair cushions, orthopaedic bedrail cushions and fall injury prevention cushions.
We can help you with all your healthcare foam needs. For help choosing a foam type or custom manufacturing, contact MUNKCARE today.