Hands are the easiest way to spread germs, a small percentage of which are harmless, non-pathogenic microorganisms normally found on human skin. Other types of germs found in the air and on surfaces, such as viruses and bacteria, are responsible for many diseases, from the more common and less serious (such as colds) to more serious illnesses. Some bacteria can survive on surfaces for hours and can enter your eyes, nose and mouth through your hands.
Keeping your hands clean is therefore vital to prevent infection, both in your social life and in medical facilities such as hospitals, clinics and dental practices.
As we are currently experiencing a coronavirus crisis, we need to pay closer attention to this good hygiene practice in order to prevent transmission and limit the risk of Covid-19 transmission now and in the future. Hand washing is widely recognised as an essential precaution against infection.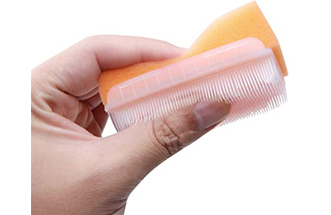 Dry Surgical Scrub Brush
5 key moments for hand washing
In healthcare settings, it is essential to wash hands at the 5 critical times defined by the WHO.
1. Before contact with a patient
You must wash your hands before touching a patient, even if it is a standard contact such as approaching them or shaking hands.
2. Before aseptic operations
If possible, use a surgical scrub brush and you must wash your hands before any aseptic procedure, such as dental cleaning where the skin is not intact.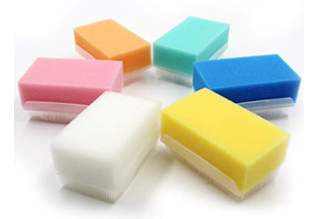 Dry Surgical Scrub Brush
3. After contact with body fluids or bioaerosols
You must clean your hands (after removing gloves) immediately after possible contact with body fluids or bioaerosols, for example after contact with mucous membranes or incomplete skin or after performing dental cleaning.
4. After contact with a patient
After contact with the patient or in close proximity to the patient
5. After contact with the patient's surroundings
After contact with any object or furniture near the patient, even if there is no direct contact with the patient.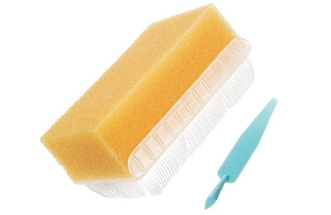 Dry Surgical Scrub Brush
Hand washing before aseptic operations
Surgical disinfection of the hands and forearms involves thorough washing with an antiseptic soap. This is done by all members of the surgical team who are in direct contact with the sterile surgical area to reduce bacterial loads and transient flora.
For maximum accuracy, the operator must ensure the following before hand washing (CDC 2002/II, WHO 2006/II)
fingernails are cut short to less than 0.5 cm in length

various jewellery and accessories (e.g. watches and rings) are removed as they may contain micro-organisms capable of contaminating the body with pathogens (CDC 2002/II, WHO 2006/II)



The procedure must be carried out before any basic or highly invasive surgical procedure and at the end of the working day.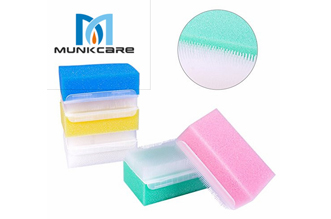 Dry Surgical Scrub Brush
Guidelines for the use of dry surgical brushes
There are different types of surgical cleaning products on the market. The most common surgical scrubs are liquid antiseptics or foam soaps used in combination with water and a dry surgical scrub brush.
If you are using a dry surgical scrub brush, do the following.
Wet the hands and forearms up to the elbow joint.

If there is no protective film, avoid touching the dispenser bar and dispense antibacterial soap with the elbow.

Perform a surgical scrub and wash hands and forearms under running water for a few minutes.

Rinsing the hands first and then the forearms while keeping the hands above the forearms to prevent water from leaking onto the hands.

Carefully cleaning the space under the nails with a file.

Brushing the nails and cuticles, paying close attention to the area between the fingers using a dry surgical brush soaked in an antiseptic solution.

Finally, place the brush and file in the designated bin and rinse the hands first and then the forearm (keeping the hand above the forearm).

Dry the hands and forearms with a sterile cloth, starting with the fingers (one at a time), then the palms/back, wrists and finally the forearms up to the elbows.



MUNKCARE, made of clinicians, researchers, engineers, is a manufacturer of medical supplies uniquely positioned to provide products, education and support across the oral care and in vitro diagnosis. Our product include oral swabs, suction swabs/ toothbrush, surgical scrubs brush, sponge brush, sample collection swabs and medical sponge.
For more information and consultation, contact us here!